Welcome
Our seventh annual Talent & People Practices Benchmark Survey was sent to Norwest's active North America-based portfolio companies. Conducted in late summer 2022, the survey measures benchmarks and best practices around people operations, talent acquisition, team structure, total rewards, systems and tools, and post-pandemic impacts (including return-to-work expectations).
Here are our top takeaways for 2022. You can download the detailed findings below.
Catch the recording of our virtual event where we walked through the data and discussed how to leverage these benchmarks for the uncertain future. You can find our accompanying blog to the survey here.
FEWER COMP INCREASES ON THE HORIZON
The number of companies planning to offer annual comp increases decreased by 12% in 2022
Conflicting findings around annual compensation revealed a disconnect between budget-conscious frugality with salary increases, and no-strings-attached generosity with bonuses.
Our take: Fewer companies are planning annual increases, and 27% do not have a revenue target floor for bonuses.
EMPLOYEE FLEXIBILITY MATTERS MORE THAN EVER
68% of companies now offer 11+ paid holidays per year
Benefits that support employees throughout their personal and professional lives are becoming the standard. Results showed a 19% increase since 2021 of companies offering 11 or more paid holidays.
Our take: Increased employee flexibility is table stakes in the war for talent, which continues for many companies even as the economic downturn has resulted in layoffs for others. Most companies surveyed have added partial or fully remote working opportunities.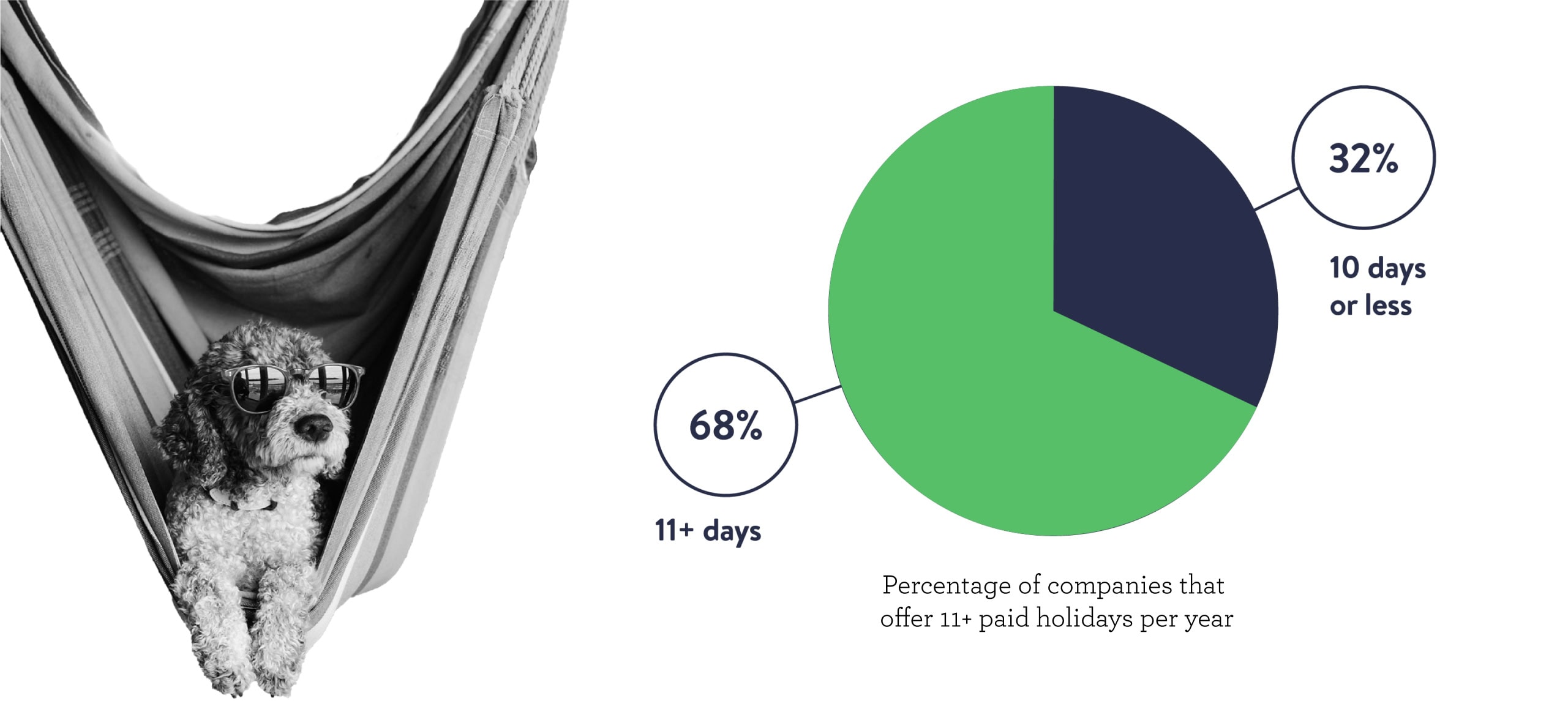 SMALLER TALENT TEAMS NEEDED IN 2023
More than three-quarters of new hires come from internal Talent Acquisition teams
Economic concerns will dictate employers' hiring and Talent Acquisition (TA) priorities. In 2022, 37% of companies sourced most of their new hires from internal TA teams, a significant increase since 2019.
Our take: As hiring plans scale back, internal TA teams will also face reductions, as smaller teams can execute on fewer hires.
FEWER COST-OF-LIVING ADJUSTMENTS EXPECTED
Only 26% of companies factor in Cost-of-Living Adjustment (COLA)
Inflation, along with uncertain market conditions and acclimation to distributed workforces, will continue to put HR comp decisions at odds with employees expecting pay bumps to cover rising costs. Results showed that only 26% of companies who offer annual comp increases, factor in COLA (cost-of-living adjustment).
Our take: In the battle between employees' inflation concerns and employers' downturn-driven cost cutting, expect employers' bottom line to prevail.
LEARNING & DEVELOPMENT BOUNCES BACK
Learning & Development (L&D) offerings increased by 42%
After a dip in 2021, there was a 42% rebound in 2022 for companies that offer L&D options to all employees. Employers are increasingly investing in the professional development of their employees, which is a win for both businesses and workers.
Our take: There is a clear connection between L&D programs and attracting and retaining top talent, especially in a hybrid and remote working environment.
VALUE OF DEI STILL BEING UNDERSTOOD
Seventy-five percent of companies are prioritizing DEI
We are encouraged to see that 75% of companies are still prioritizing DEI initiatives.
Our take: As employers push to conserve budget heading into the downturn, they would be well advised to lean into the opportunity to build their pool of candidates from underrepresented groups. We believe that the best teams and the best long-term value comes from companies made up of individuals with varying points of view and experiences.
HIRING COSTS ON THE RISE
Average cost per hire is $5-10K for 30% of companies
Hiring costs seem to be reverting to pre-pandemic levels. Thirty percent of companies reported their average cost per hire is between $5-10K, versus 22 percent in 2021.
Our take: Findings indicate that the hiring cost efficiencies gained in 2021 were temporary, which could put a strain on budgets as companies look to optimize all aspects of business.